After a few disappointing CMW sets, I wandered into the Horseshoe Tavern; a little discouraged, and a tired of lugging my camera gear around the city all night.  I planned to grab a seat in the back, sit through the current band's set, and then check out Chasing AMEE in around 45 minutes.  I tipped back my beer and had a look around, oblivious to the music and my tapping foot.  'At least the Horseshoe was showing signs of life', I thought.  I'd just left the El Mocambo to a crowd of oxy-moronically subdued punk fans.
People had their sights set on the stage; big smiles on their faces like some surprise guest had come out and accompanied whoever was playing.  I searched the stage, but didn't see any Broken Social members playing second-cello.  What was going on?
I leaned towards the gaunt fellow beside me and yelled (it was loud) "HEY, WHO IS THIS?" to which the sunken face looked at me and replied:
"THEY'RE CALLED WAGONS AND THEY'RE MORE BADASS THAN I EXPECTED"
And on that note, I decided to take a closer look.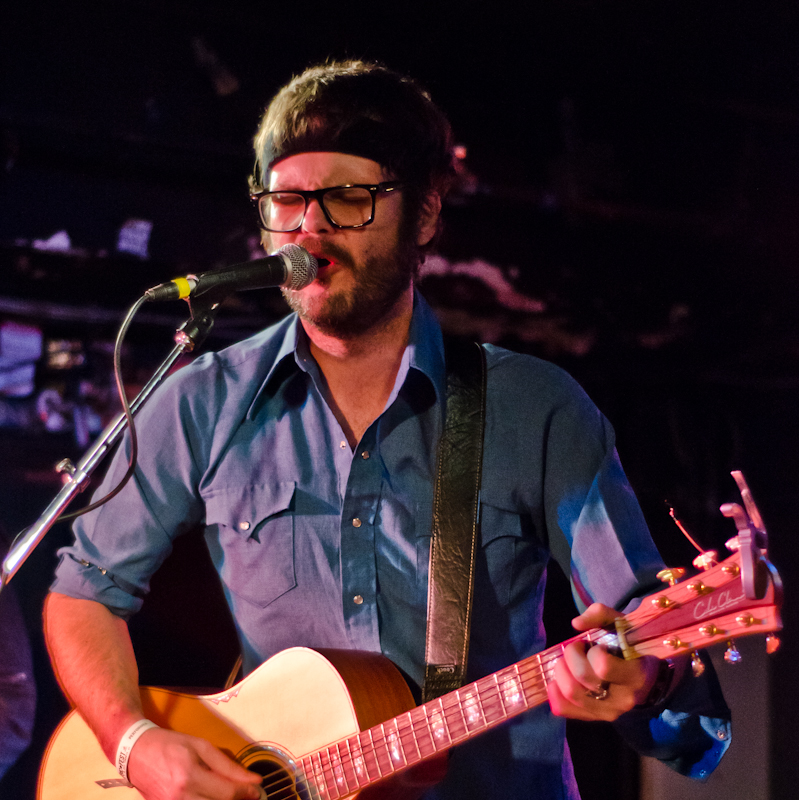 Turns out the guy was right, they played a hell of a set and reminded me why I do what I do.
Near the end of their set-list, the lead (Henry Wagons) announced they were going to play 'The Gambler'.  "Oh… a cover" I thought.  Luckily I was way off.  They didn't cover The Gambler at all; they honored it.  The first thing you should do when you finish reading this is to listen to this song; hell, go listen to it now.
The rest is history of a sort.  I knew these guys were the best band I'd seen all night and Toronto needs to see more of them.  I grabbed their manager after their set and scheduled a day of photos and an interview before they left for SXSW.
Two Days Later
We met at a cafe near their hotel, prior to starting the day.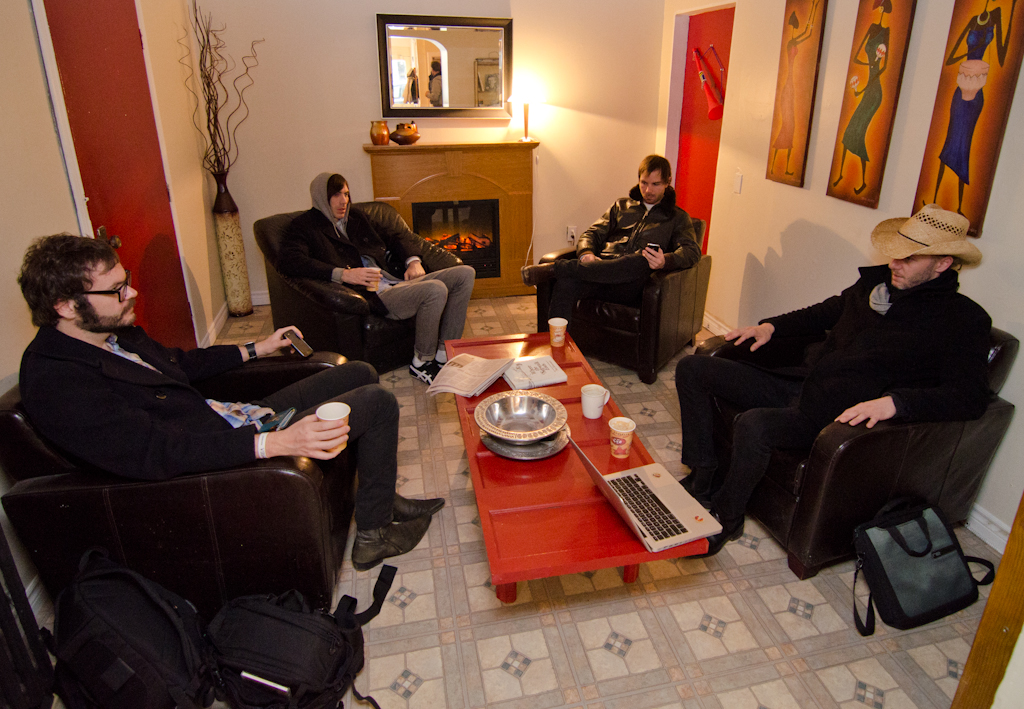 While waiting for the band to assemble, I'd learned a few pieces of information that would prove useful in making the day go smoothly.  Si (Simon) was sick, apparently a bad case of Canadian Fever, Chad knows cameras (harder to bluff and say "I was testing my black levels" when I actually just forgot to take off the lens cap).  Henry answers telephone calls in the shower (social grandmaster?), and Mark was quite the scarf-aficionado (plenty of context here).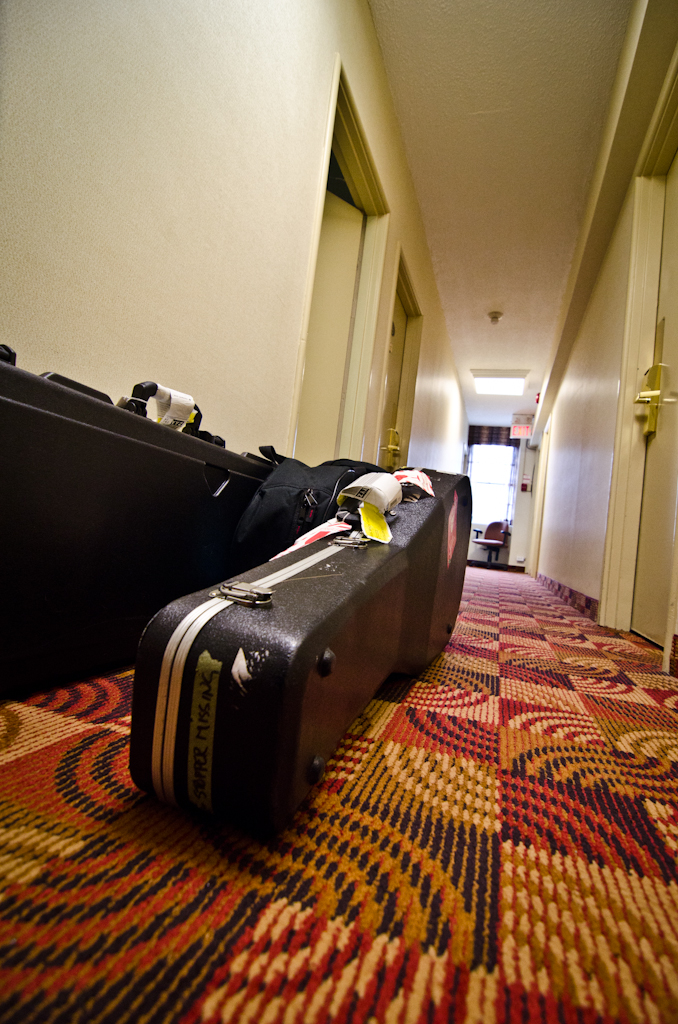 After a pick-me-up macchiato, we headed back to the hotel to grab the gear and load up the van.  I stuck my head into the hotel room and considered whether or not it was my duty to document the state of things.  In the end I decided to spare the guys unnecessary photos of the many socks and the even more plentiful bottles of medicine (Simon must have really had a rough case of the Canuck Fever).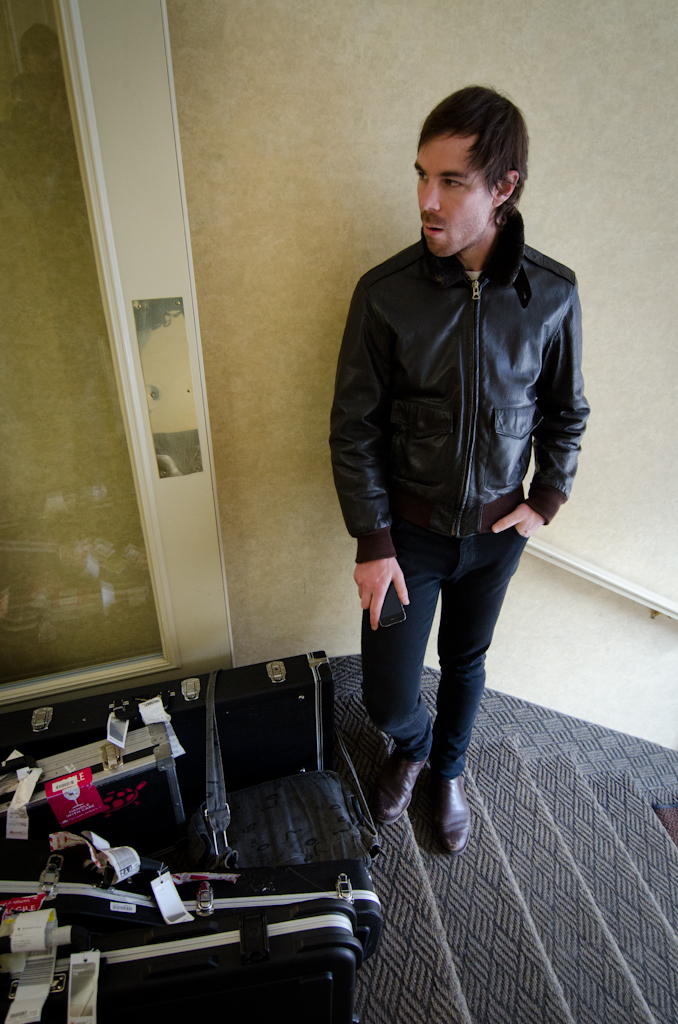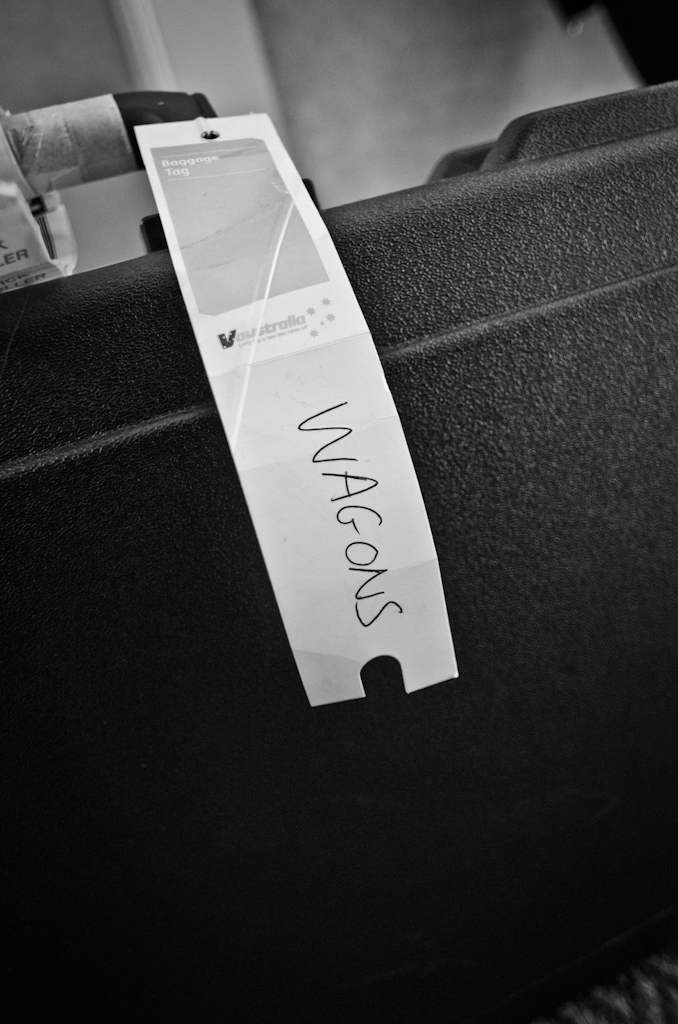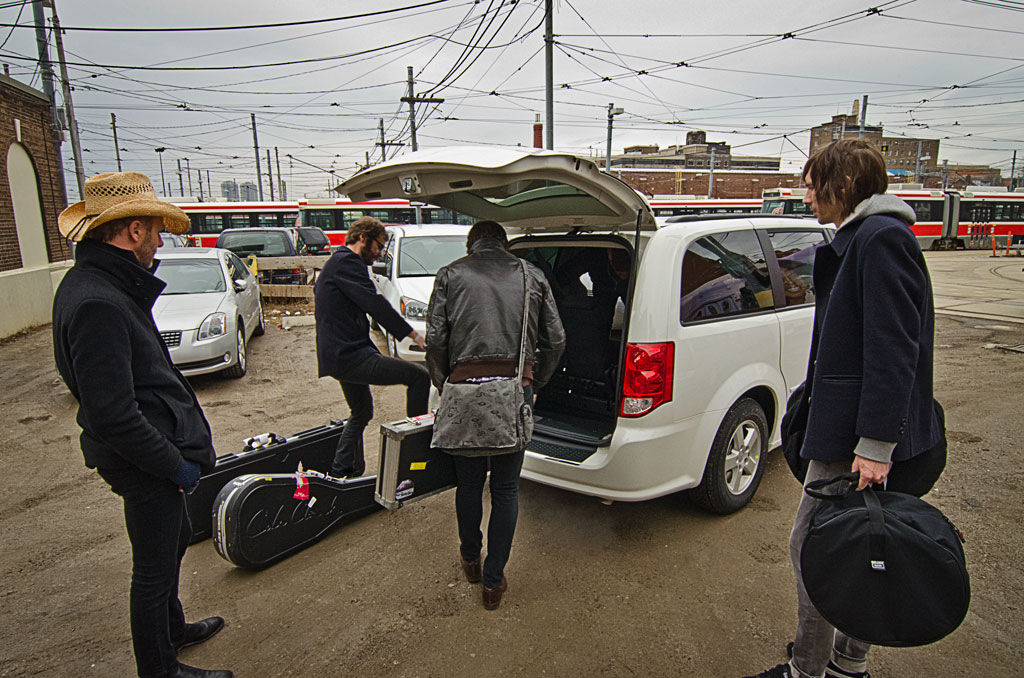 A quick drive along Queen St. took us to the Horseshoe Tavern, where the band would be playing for the Aussie BBQ event that afternoon.  En route, I played tour guide as best I could; pointing out a bar here, a street of interest there.
"On a cold and grey Chicago morn' / A poor little baby child is born"
Henry notes that 'In the Ghetto' may very well be one of the greatest songs ever created.  The King streams through the speakers for most of the ride as someone seems to have found an all-Elvis satellite station.  I tell the band about Joey the white squirrel in Trinity Bellwoods Park; this proves to be the most interesting landmark between Roncesvalles and Spadina.  The ensuing conversation about our respective urban animals leaves me pondering the outcome of a raccoon v.s. possum showdown.
"And a hungry little boy with a runny nose / plays in the street as the cold wind blows"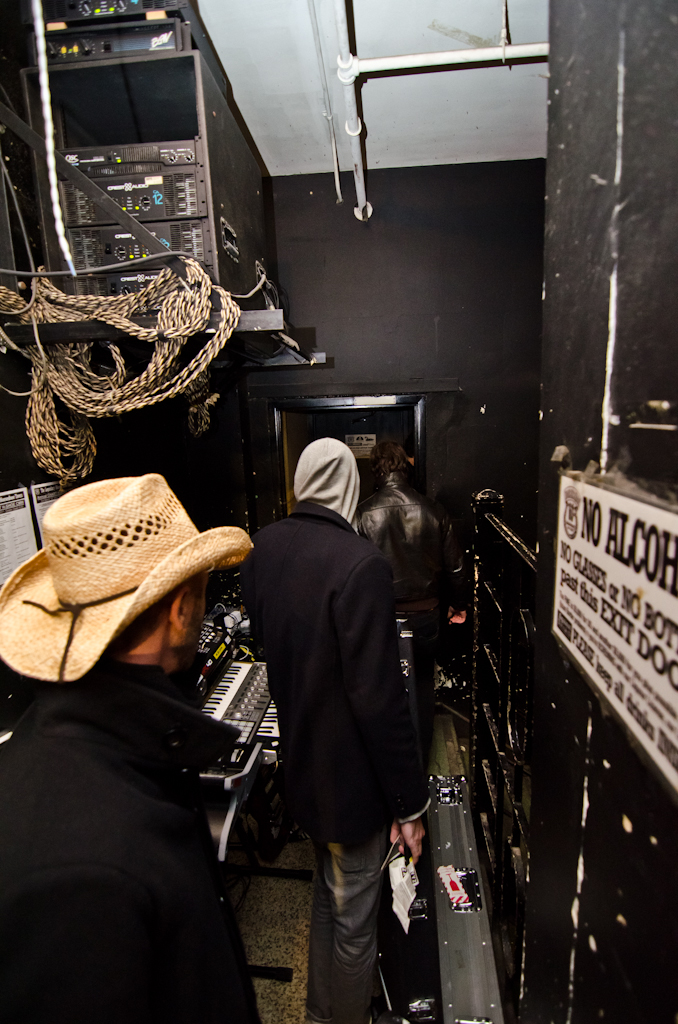 We arrive at the Horseshoe and toss everything into the closet of a green room, I stash some camera gear in the hallway, underneath some cymbals.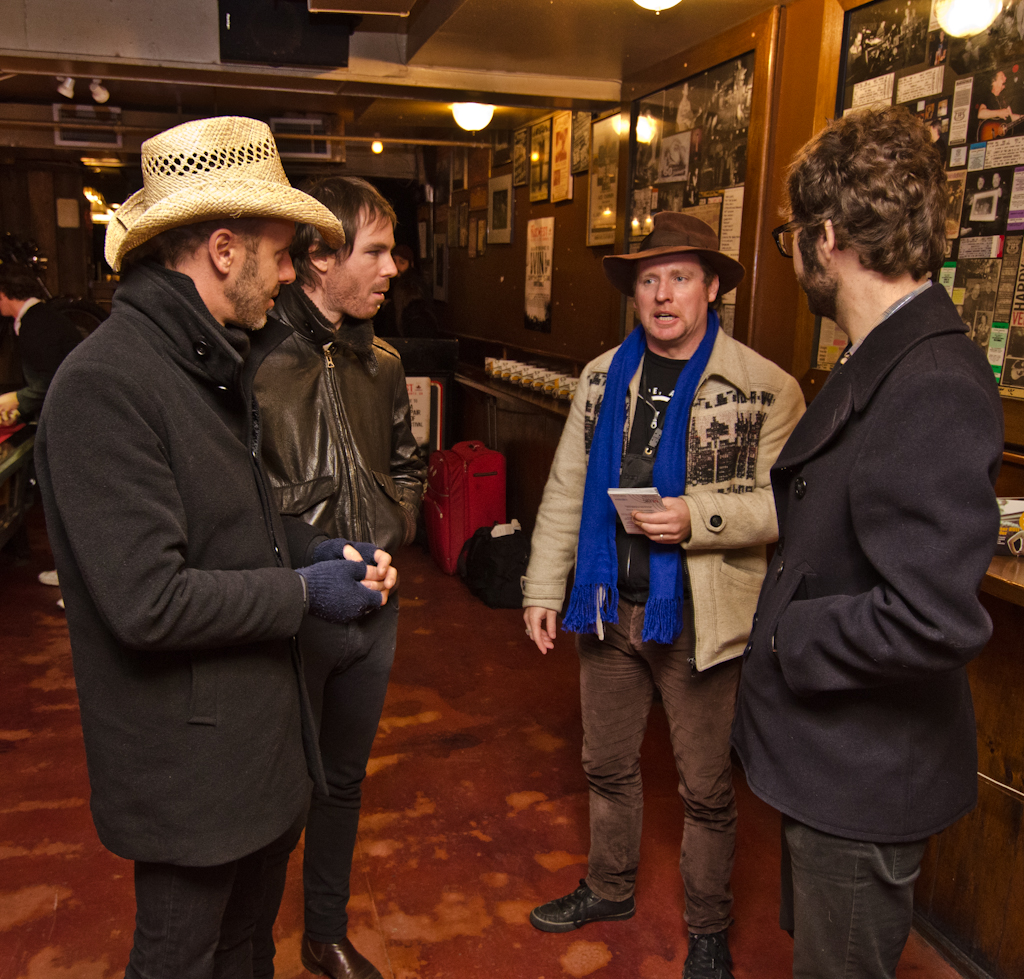 Some preparatory discussions on the event.  We've got our Aussies, we've got the BBQs, I think we're about set.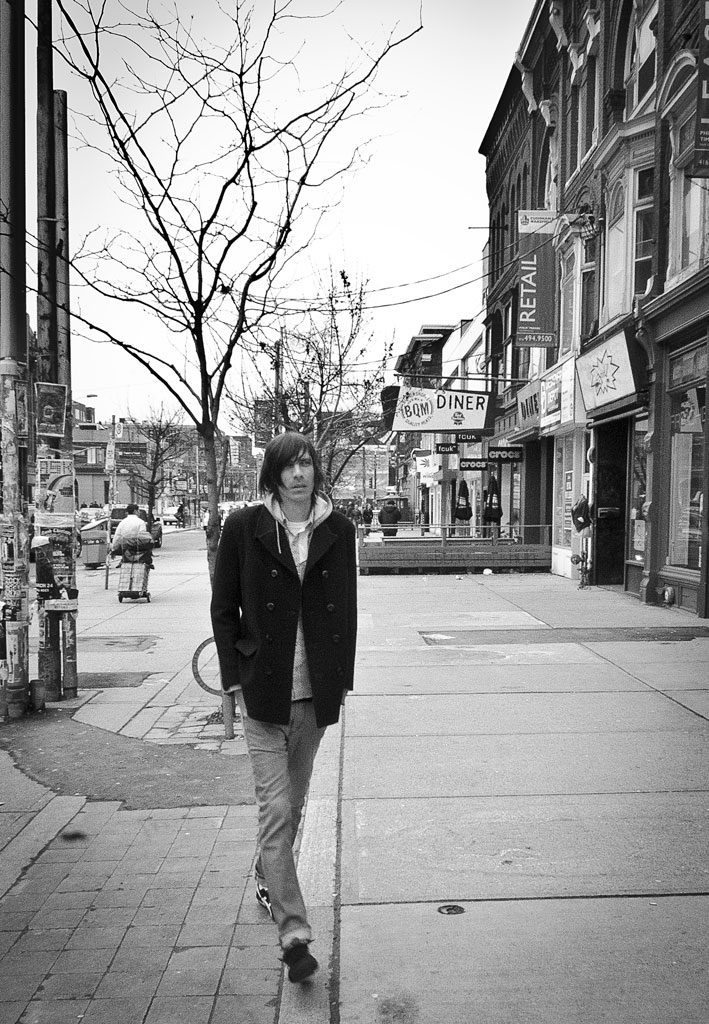 Si(mon)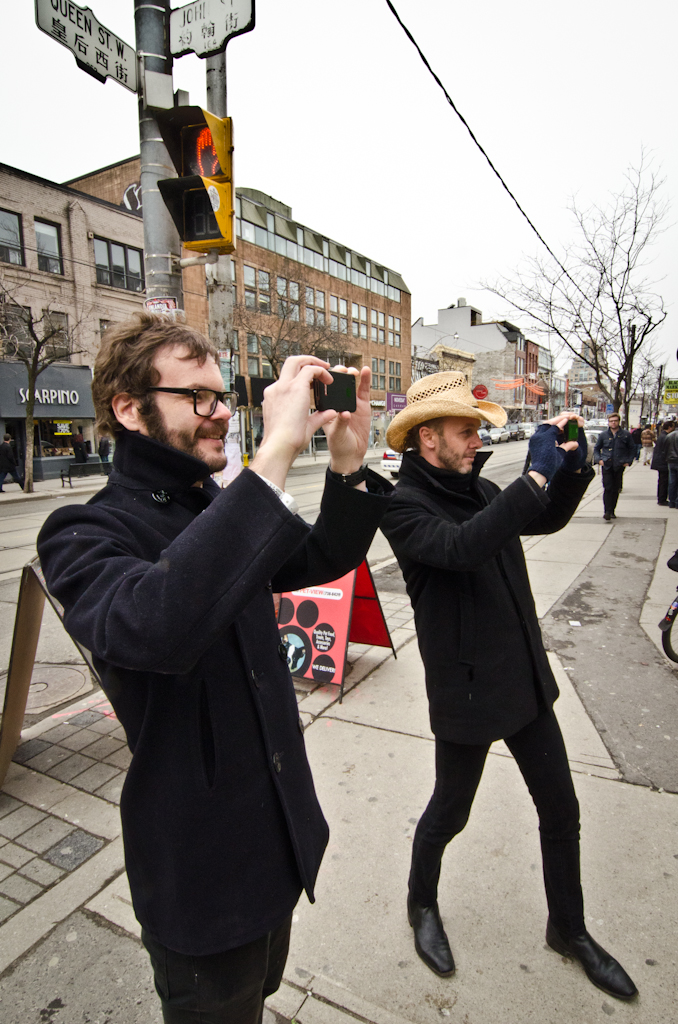 Henry and Mark halted rather abruptly and pulled out their phones for, apparently, a clear photo op.  All I saw was a Quizno's…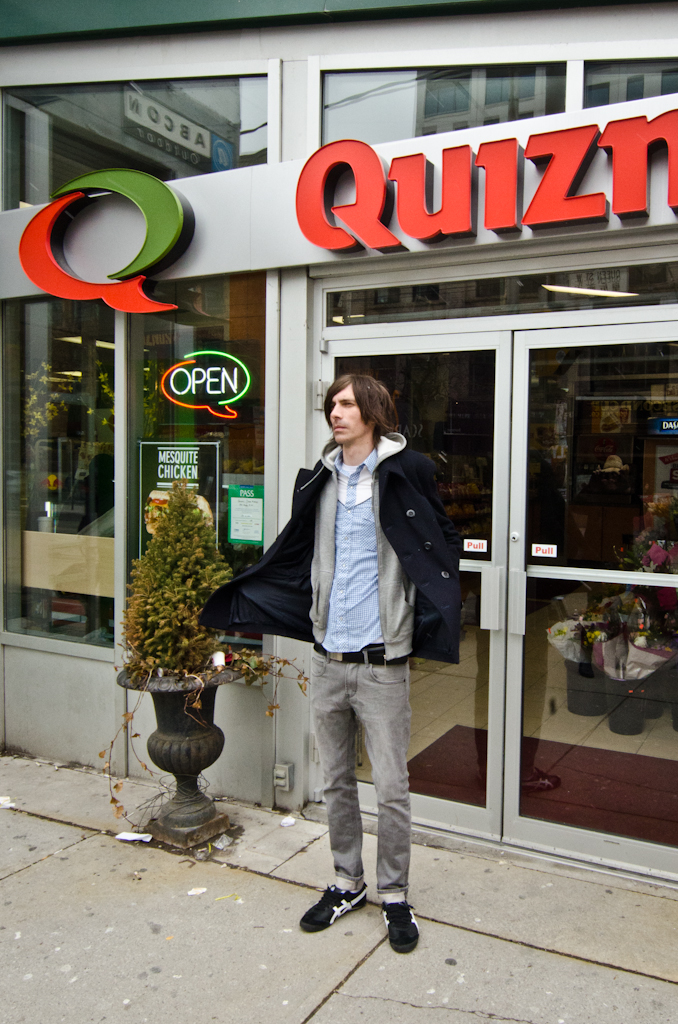 "It's just this thing we have.  It's like, 'A state of quiznos' you know?"
I didn't, actually, but I think I eventually figured it out.  I asked if there was a 'State of Subway' and whether it was higher or lower on the philosophical ladder <rim shot>.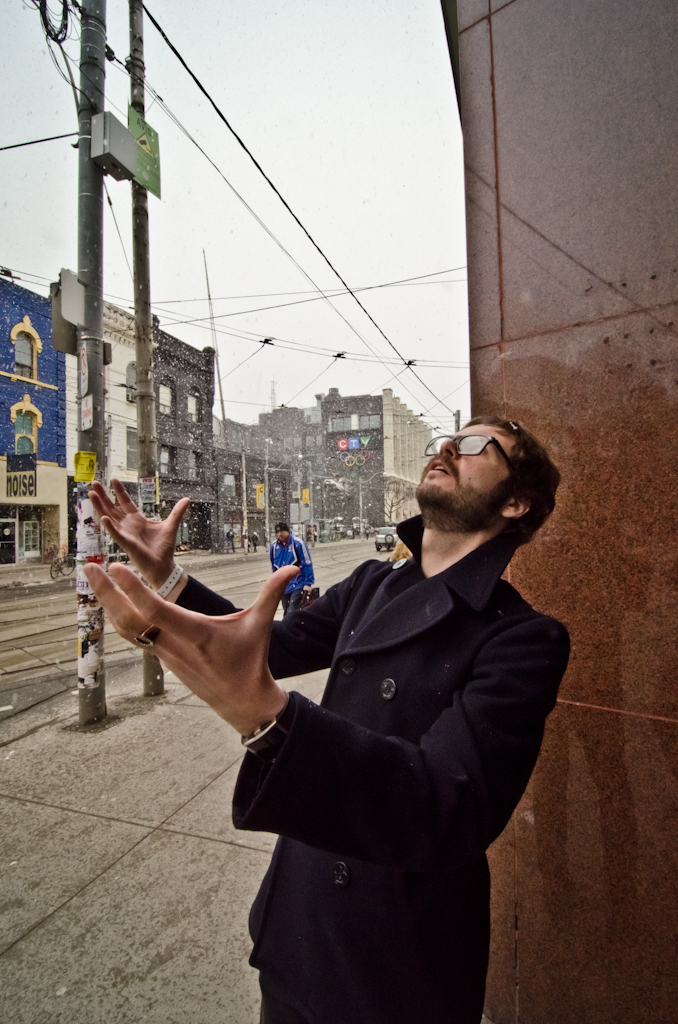 It started snowing as the band struggled to get the ATMs to play nice with their bank cards.  So THAT'S what that little blue Cirrus symbol is for.
Henry raises his hands in a posture that seems to blend 'winter wonder' and 'snow summoning demigod'.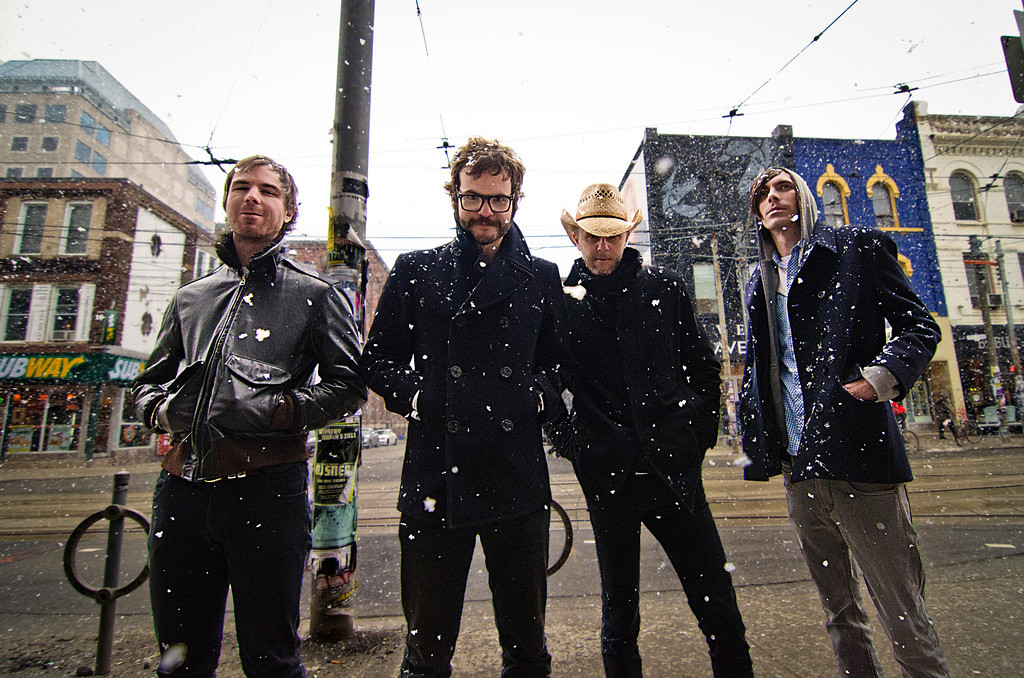 Toronto gave Wagons a standard welcome, in the form of very large snowflakes.
A couple of days earlier, Wagons spent some quality reverse-interview time with Jasey Rae at Ruin Your Thunder and based on a few of her suggestions they now had the Black Market on their shopping list.  I led the way and proceeded to harass the guys as they tried on various combinations of fur-lined coats and exotic boots.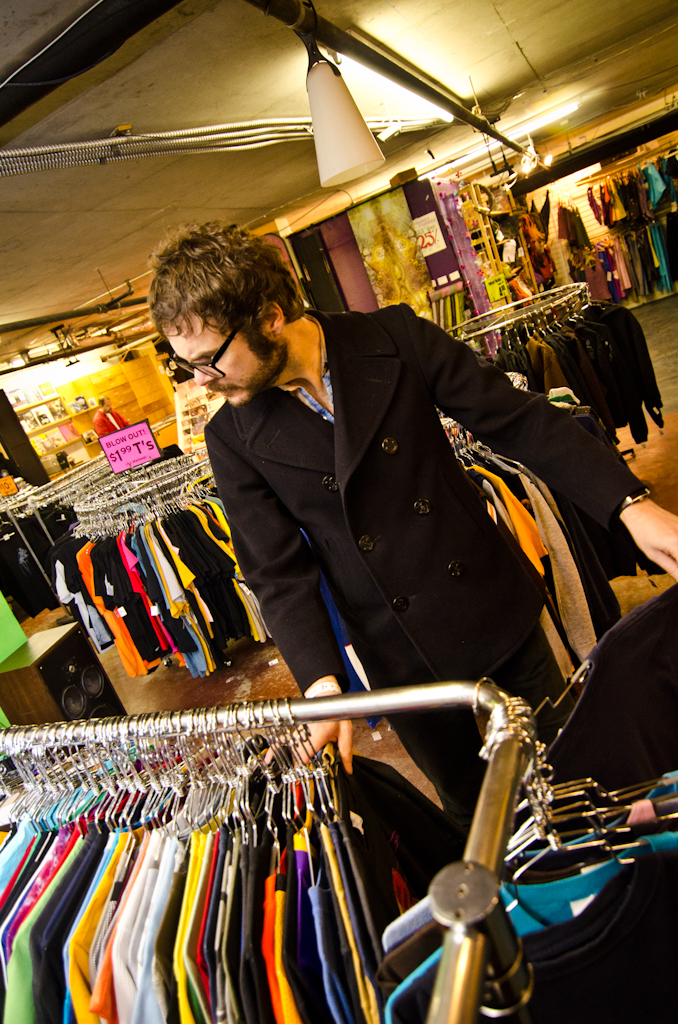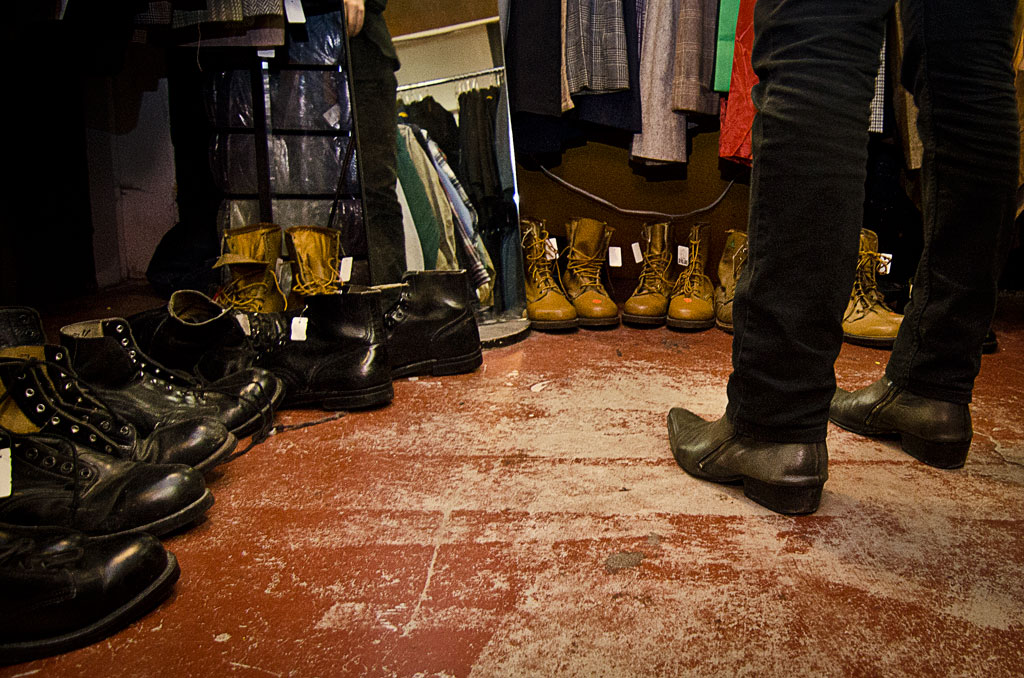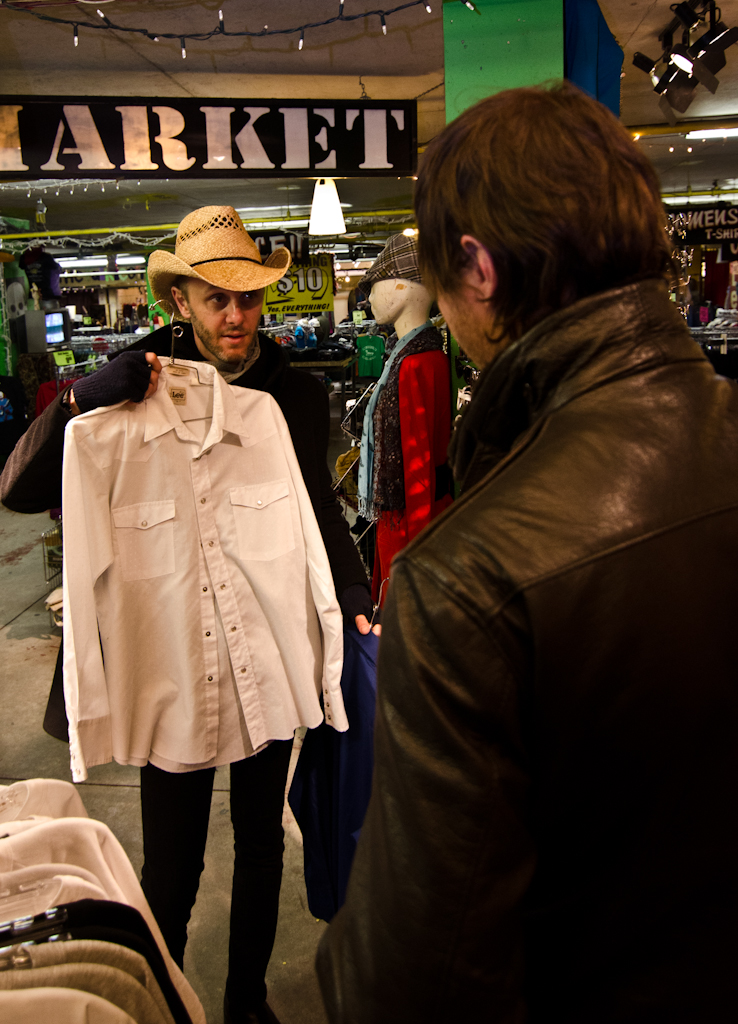 After sating their vintage clothing and button needs, we met up with some interviewers at the Horseshoe.
Chad takes a personal moment below.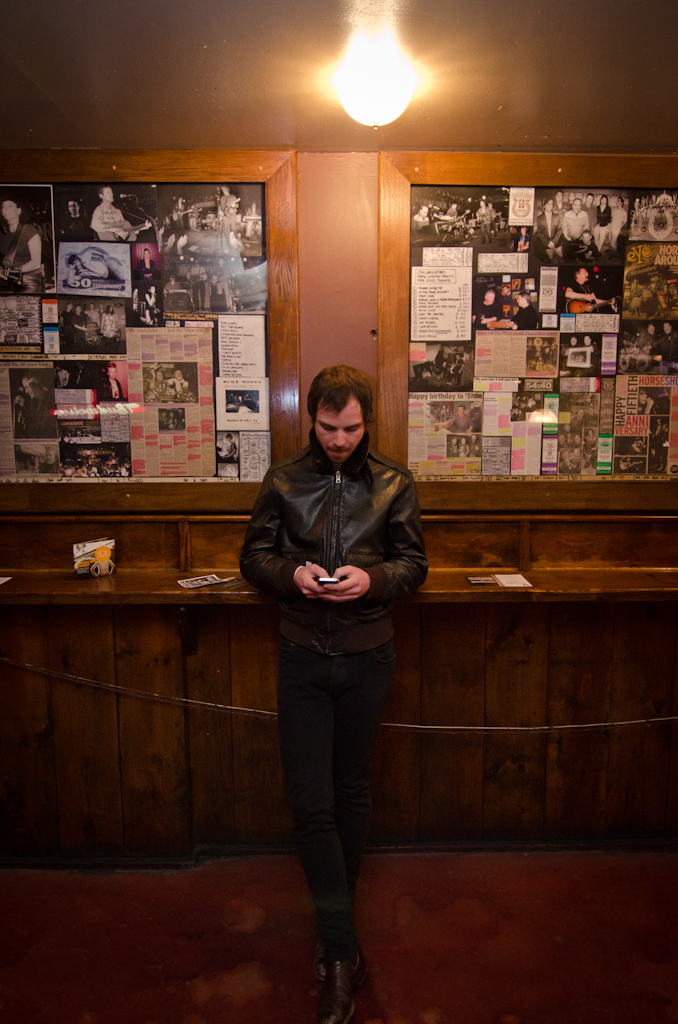 I left the Horseshoe with their manager, Matthew, in search of a location for Wagons to conduct a couple of interviews as the opening bands had already started playing at the bar.  I took Matthew up to the Dark Horse cafe, but the place was packed as always.  We spotted a decent looking lobby that we might be able to use, so, without many options, we headed back to get gang.  That's when Matthew looked up and said "What about this place?"
Me: "I don't think that's open, I think it's a furniture store or something…"
Hotel Ocho is no furniture store, for the record, although their tables and chairs are quite nice.
In fact, this place is so awesome, I needed to write a full out article on it.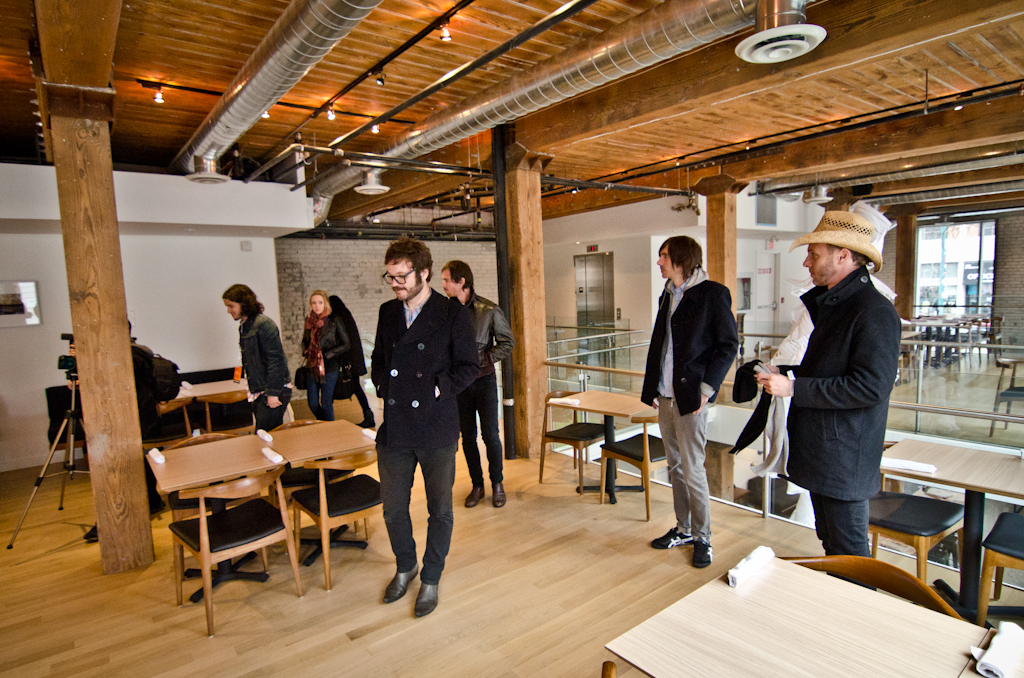 The interviews were with the AU Review and Made in 72 hrs.  Henry did what he does best and charmed the pants (not literally) off his interrogators, and the rest of the band filled in any blanks.  Everyone was having such a good conversation that I was tasked with hauling the ladies from MADE away so Wagons wouldn't miss their set time.
Meanwhile, my 3rd coffee of the day sent me into a caffeine supernova.  I narrowly avoided pacing a hole in the floor by consuming a strong Belgian beer with a sense of great urgency.  In case your mothers haven't told you, it's perfectly acceptable to balance caffeine and alcohol in order to maintain a healthy neutral state (of quiznos).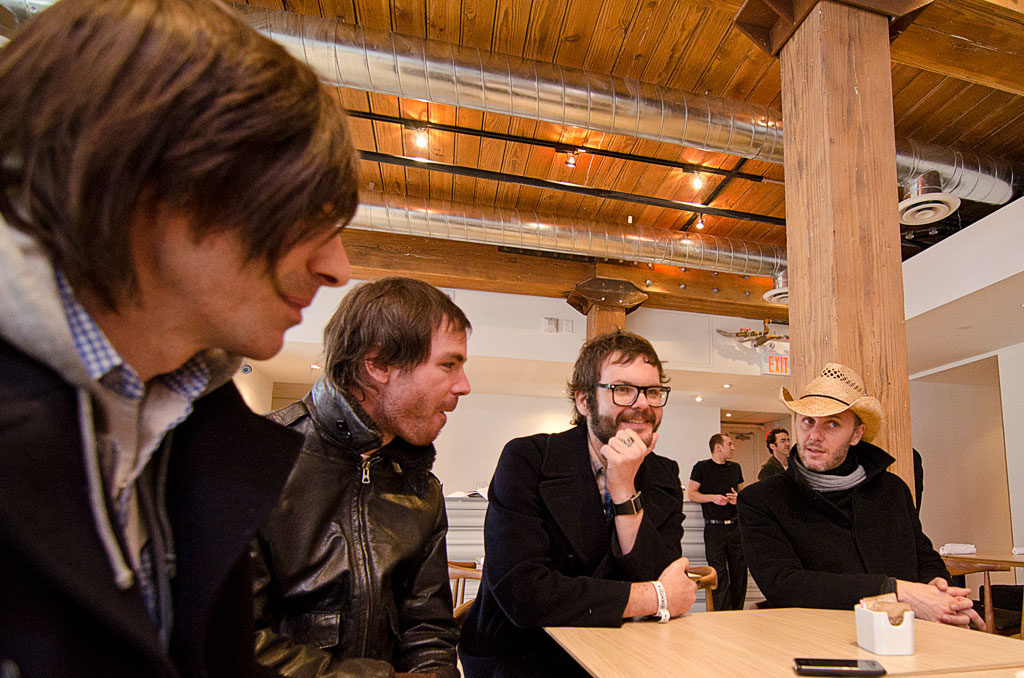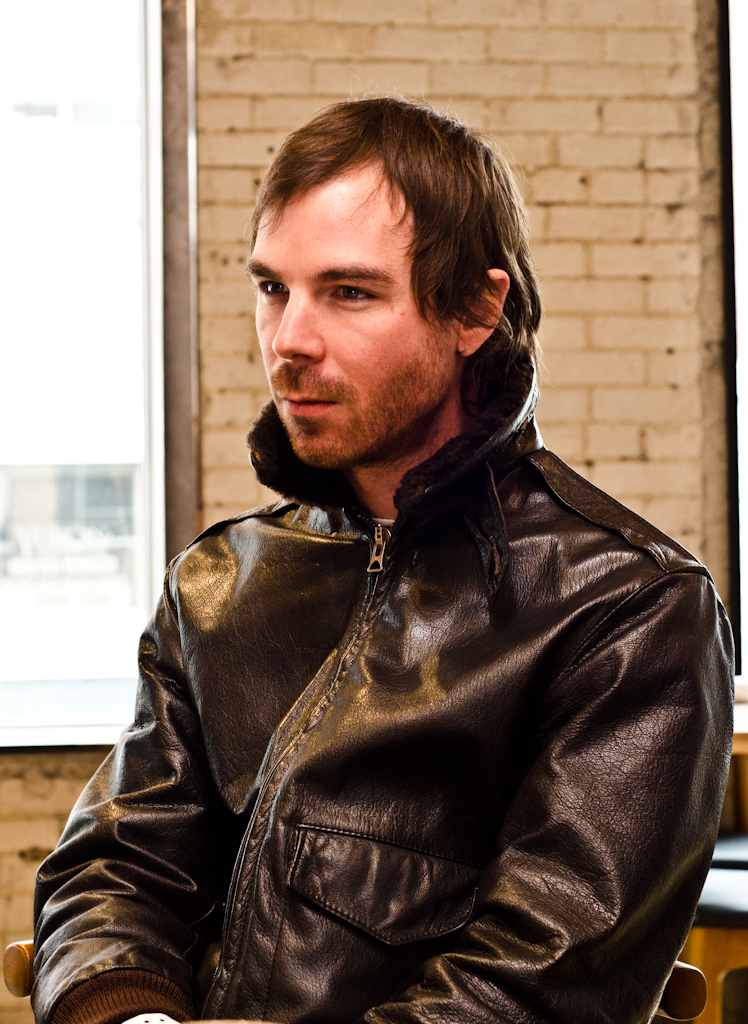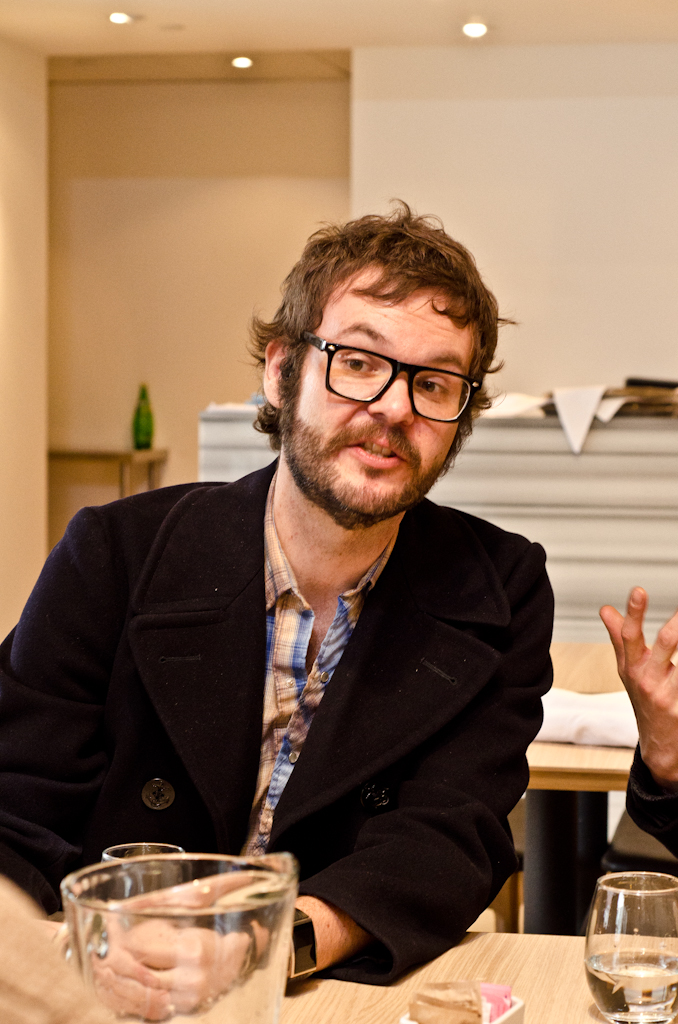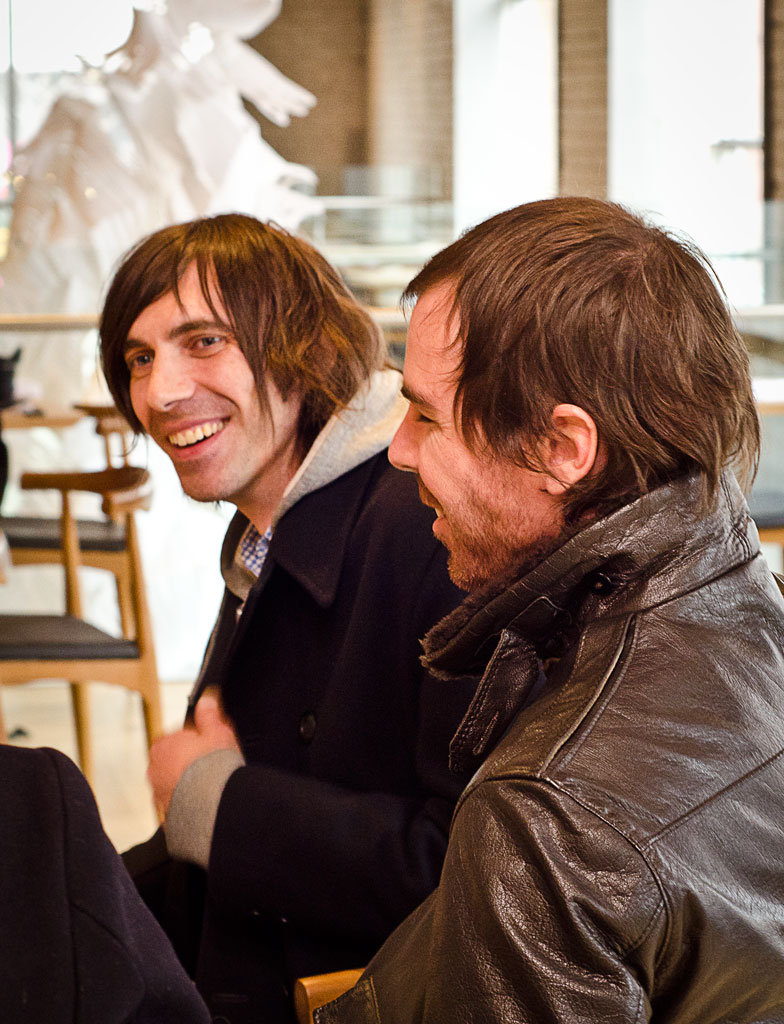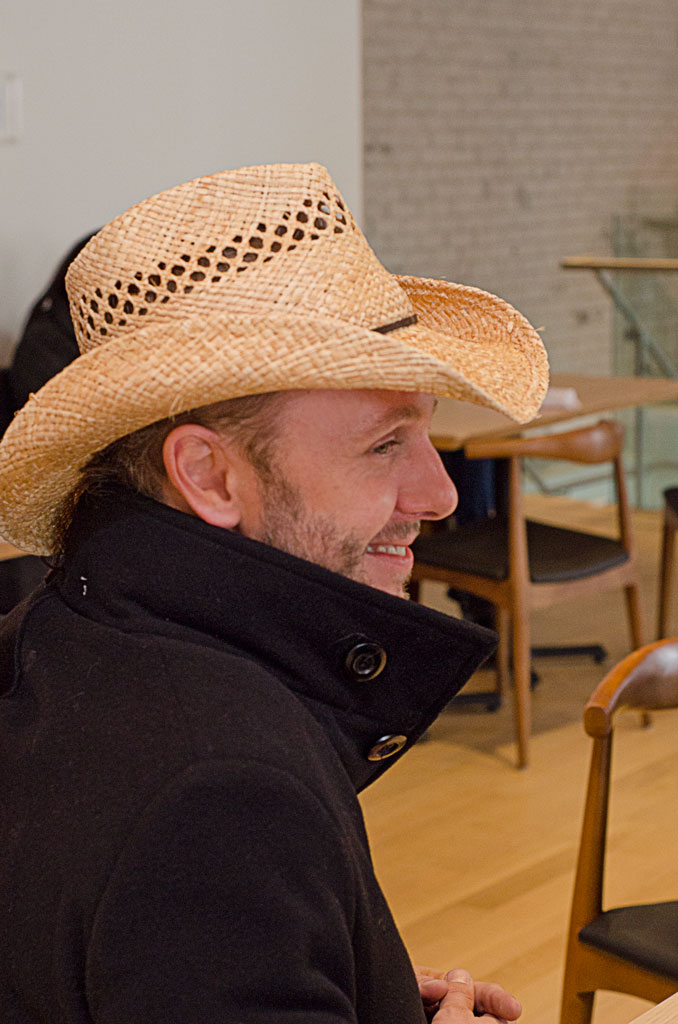 We got back to the Horseshoe with enough time to grab a few drinks and prepare for the set.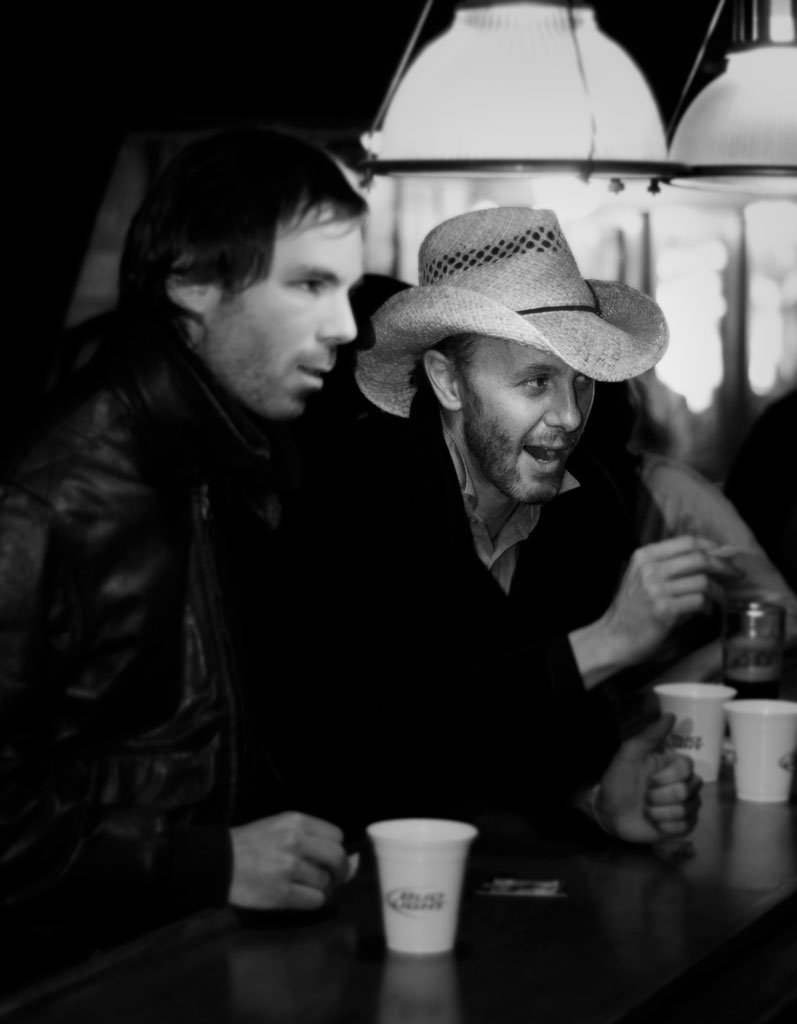 (Below) Any other man would be sizing up the competition.  "Are these guys better than us?  Is our set-list proper? Maybe we should….."
…. not Henry.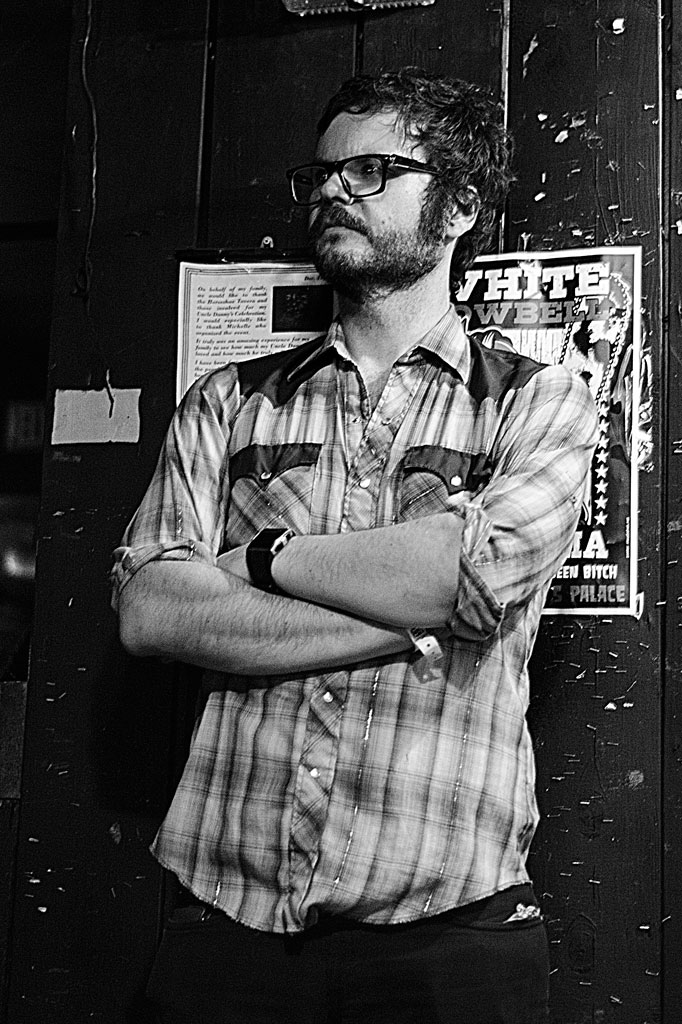 Another incredible set.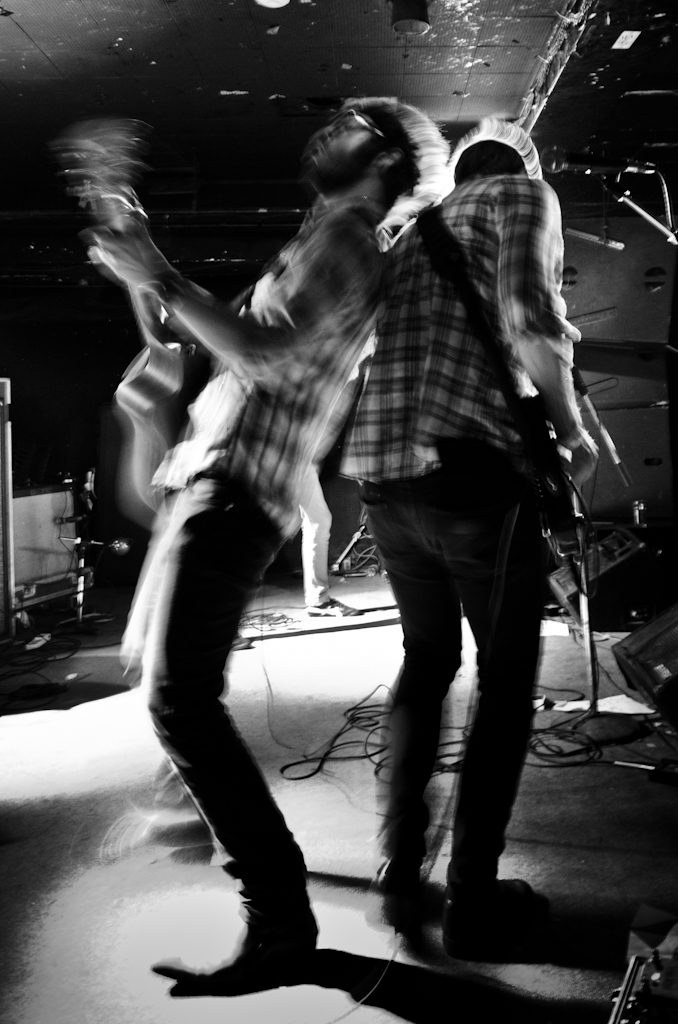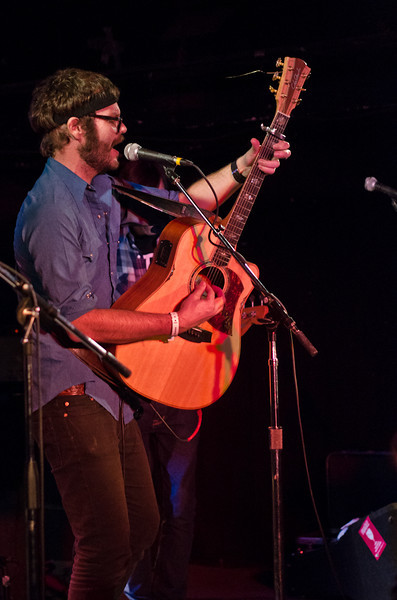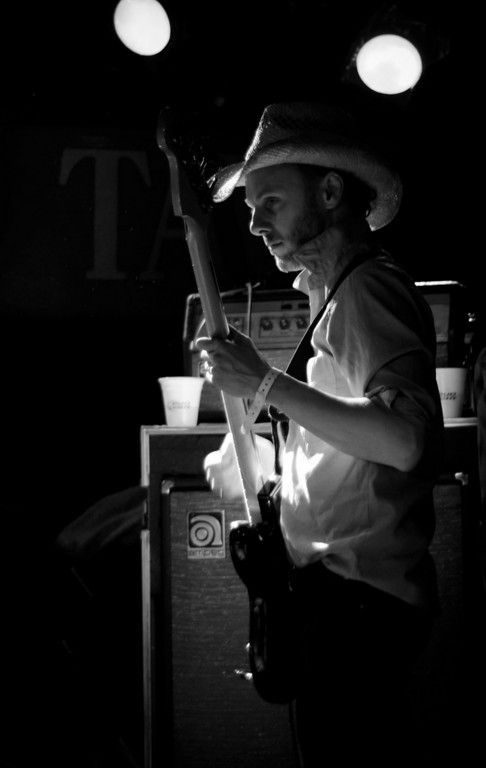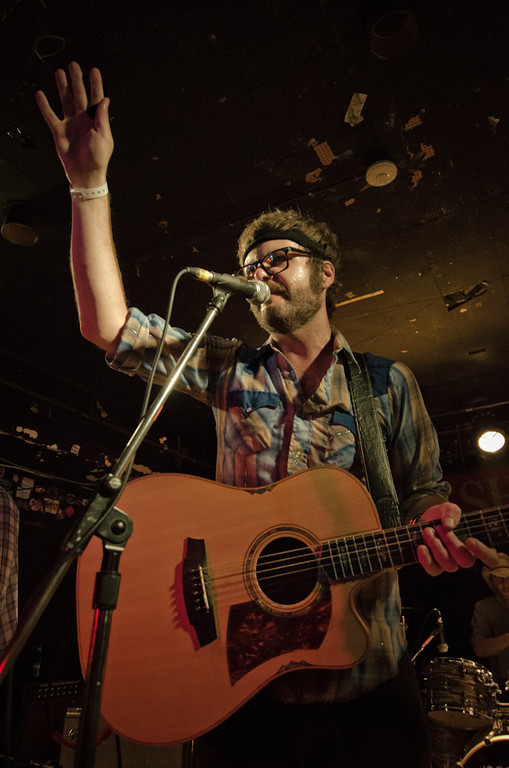 Collective sigh.  The Toronto shows were over for Wagons and they could relax until New York.
Time to grab a drink and celebrate with some familiar faces.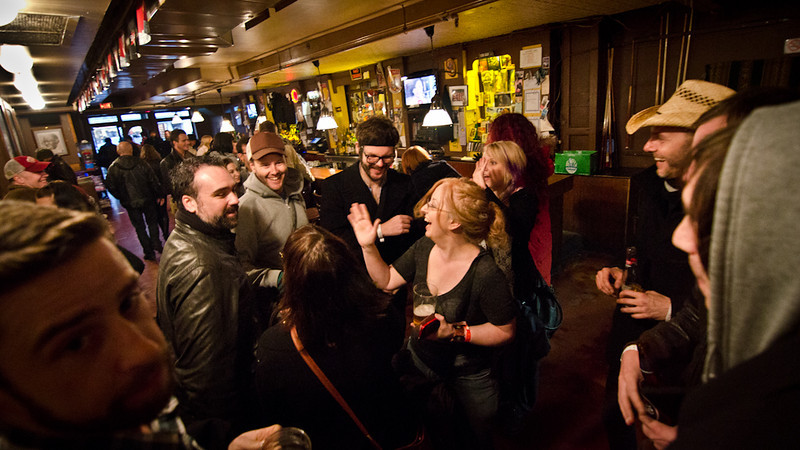 Until September; chinese food, hipster bars, and the promise of great things to come.